Which Suntour Forks are Safe for Freeride & Downhill Use?
It is not imminently clear when buying a bike with Suntour Fork whether they are rated for off-road use. Many of the lower end off road forks, come with stickers saying "not suitable for freeride or downhill" or as below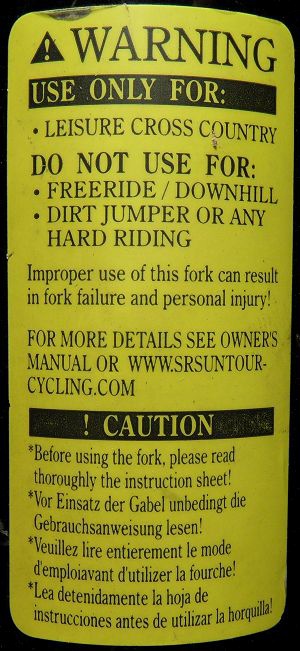 Sticker says "Do not use for free ride, down hill, dirt jumper or any hard riding" This is primarily for insurance purposes. p.s. What is hard riding? LOL
The below table shows the intended uses for each type of fork that Suntour sell. The table is a little out of date so might not include newest forks. The table can be found in the
General Fork Manual Suntour.
Forks covered include:
MOBIE
XCM
XCT
NEX
NVX
M3010
CR
AXON
XCR
XCT
XCE